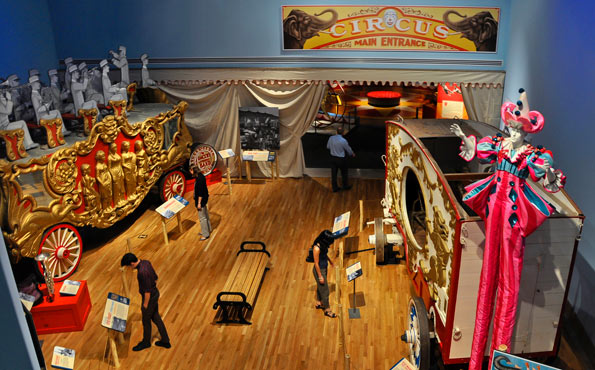 Hello everyone! I hope you are all well and staying cool during this horrendously hot start of summer!
As I mentioned in the last meeting minutes, I'm providing some info on our upcoming alley trip to Sarasota to visit the Ringling Circus Museum and the Sarasota Summer Circus on Saturday, July 25th.
1) ADMISSION COST: For the Sarasota Summer Circus held in the historic Asolo Theater only – $15 per adult and $12 per child (does not include any museum admissions)
ADMISSION OPTIONS:
a) For an additional $5.00 per person, you can see the circus AND also visit the Ringling Circus Museum. (This option is what we are planning on for our alley visit.)
OR
b) For an additional $10.00 per person, you can see the circus AND the Ringling Circus Museum AND all the other buildings and areas (Bayfront Gardens, Ca'd'Zan, Museum of Art)
NOTE: There are other discounts offered (active military, students, seniors, teachers, etc), but you'll need to ask about those when you book your tickets. I don't know how discounts work, if they do, in conduction with the Summer Circus tickets. But, you don't want to wait to buy the circus tickets because seating is limited.
** Guided tours are extra and need to be booked in advance**
Group discount is offered for 20+ in a group, but I don't think that will apply to us this time around.
2) RINGLING HOURS: On Saturday and Sunday, the Ringling property is open from 10:AM until 5:00pm. Only the Bayfront Gardens are open 9:30am until 6:00pm.
3) SUMMER CIRCUS SHOW TIMES: Saturday at 2:00pm and 5:00pm
ALLEY PLANS FOR THE TRIP –
** We are planning to meet, as many as possible, at the Reformation Church EARLY so we can caravan together and possibly stop for breakfast along the way. Time to be determined.
** We hope to arrive at Ringling around 10:00am or as close to opening as possible so we have time to walk around some and visit the Circus Museum before the circus show.
** We are planning on attending the 2:00pm Circus Show!
** After the circus, we'll have until 5:00pm to finish visiting the Circus Museum.
** The final plans for the evening will hopefully be dinner at Yoder's Amish Restaurant! If you've never been, you need to go! http://yodersrestaurant.com/
** Maybe to be determined…breakfast or lunch somewhere on Sunday with those that stay overnight.
WHAT YOU NEED TO KNOW IF YOU PLAN TO ATTEND –
1) First and foremost, PLEASE RSVP as soon as possible! I need a headcount of attendees and guests, so we know who to expect, AND if you plan to stay overnight. We may need rides for some folks so knowing who is going and can possibly assist with that will be helpful too.
2) You'll need to buy your Sarasota Circus Tickets for Saturday, July 25th for the 2:00pm show as soon as possible.
Online at http://www.ringling.org/events/summer-circus-spectacular
By Phone at 941-360-7399
NOTE: The add-on for the $5 Ringling Circus Museum ticket can be bought at the Visitors Pavilion the day of the show!
3) If you plan to stay overnight, you need to make your own hotel/motel reservations! There are lots of places very near to the Ringling location. Just GOOGLE hotels near Ringling Museum.
Remember it is mid summer, tourist season and things fill up fast! If you don't mind the drive, I'm sure there are plenty of places a little farther out. I did a lot of searching and comparing and ended up getting a good deal 3 miles from Ringling using my Choice Hotels Rewards Membership.
That's the latest update. If you have any questions, please let me know.
And PLEASE RSVP if you plan to attend.
Thank you!
Aracelis